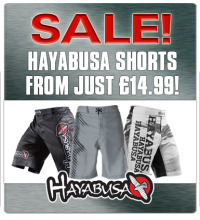 We've reduced the price of a wide range of ourAi??Hayabusa Shorts.
With the ever popularAi??Mizuchi Fight ShortsAi??for as low asAi??A?29.99Ai??and the classicShiaiAi??andAi??Kyoudo Fight ShortsAi??as low asAi??A?19.99.
The more recent,Ai??Instinct,Ai??TechniqueAi??andAi??Storm Fight ShortsAi??are also on sale at a bargain price ofAi??A?19.99, while theAi??Hayabusa Velocity Board ShortsAi??are now availble for justAi??A?14.99.
Check out theAi??Hayabusa Fight Shorts pageAi??our site to check out the full range.