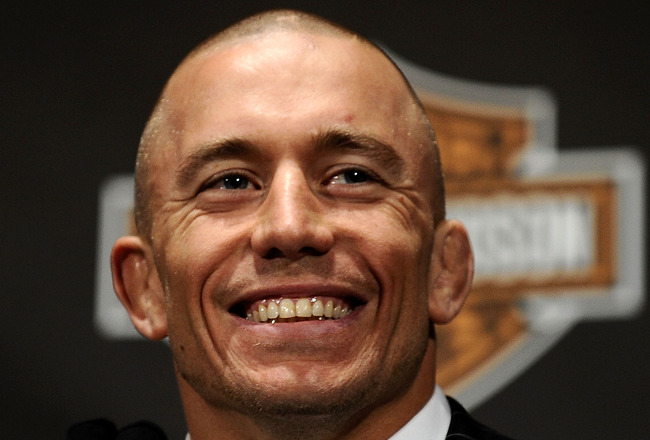 Jamal Asskoumi from Fightbacker.com discusses whether Georges St-Pierreai??i??s salary is worthy of his talent in comparison to other MMA stars.
As highest pay-per-view buy in the UFC, Georges St-Pierre has cemented his placed as a superstar of MMA – even with the controversy hovering around his most recent fight with Johny Hendrick, GSPai??i??s legacy cannot be denied. He has done what most will never do in their career and must be commended for it.
Johny Hendricks may have left the arena of UFC 167 as the uncrowned champion, winning the hearts of many of the spectators and fans alike, leaving GSP to exit the cage with a bruised face, the belt, oh, and a substantial amount of money in his pocket.
For the five round war, GSP will be taking home over A?3m for his efforts. However, with only A?250,000 coming as a recorded wage from the UFC, one may be asking themselves; how has he made this much for one fight?
The answer is simple. GSPai??i??s contract works in such a way that he receives bonuses depending on how many pay-per-view sales the card gets, and as you can imagine, being touted as the highest drawing pay-per-view star of MMA, this salary can grow to be enormous. The expected formula to this system works as follows:
Number of buys: Bonus
Fewer than 100,000: No bonus
100,000 ai??i?? 175,000: $1 per buy
175,000 ai??i?? 300,000: $1.5 per buy
300,000 ai??i?? 330,000: $2 per buy
Over 330,000: $3 per buy
Although the official numbers are not yet available for the fight card, we can estimate using previous statistics that the man also known as ai???Rushai??? made almost A?2m from this system alone.
Now, that leaves yet another A?1.5m unaccounted for. This source of this sum? Sponsors. The Canadian champion can be seen sporting several logos on his shorts and banners, all of which will be sending hefty amounts directly into the welterweightai??i??s bank account.
St-Pierre has seen endorsement deals from the heavyweights of the corporate world, the likes of which include; Google, Gatorade and Bacardi. The total of amount from the sponsors can see Georges pocket up to an additional A?1.5m per fight.
What GSP has done for this sport is admirable, but I pose the question to you – is it just that GSP make this amount of money on one fight alone, when fighters on the same card will not even make close to 5% of this?
This sour taste left in our mouths is only increased by the controversial win, which should have seen GSP dethroned.