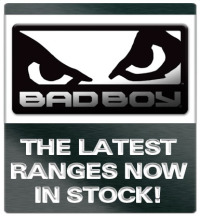 We've just stocked up on a whole range of the latest equipment and performance apparel from Bad Boy.
Bad Boy have always offered great quality at affordable prices and their latest ranges are no exception.
Check out the list below to view each of the new products individually, or go to theAi??Bad Boy – What's NewAi??page on our site.
ai???Ai??Bad Boy Legacy II Shorts in Blue / Black
ai???Ai??Bad Boy Legacy II Shorts in Black / Red
ai???Ai??Bad Boy Legacy II Shorts in Black / Blue
ai???Ai??Bad Boy Legacy II Shorts in Black
ai???Ai??Bad Boy Legacy MMA Gloves Blue / Grey / Black
ai???Ai??Bad Boy Legacy MMA Gloves Black
ai???Ai??Bad Boy Legacy Safety MMA Gloves Blue / Grey / Black
ai???Ai??Bad Boy Legacy SafetyAi??MMA Gloves Black
ai???Ai??Bad Boy Legacy Boxing GlovesAi??Blue / Grey / Black
ai???Ai??Bad Boy Legacy BoxingAi??Gloves Black
ai???Ai??Bad Boy Pro Series Mouth Guard (Black)
ai???Ai??Bad Boy Hand Wraps 2.5m Stretch Black
ai???Ai??Bad Boy Defender 2.0 Compression Shorts and Cup
ai???Ai??Bad Boy Champion Bag
ai???Ai??Bad Boy Engage Rash Guard Long Sleeve Black / White
ai???Ai??Bad Boy Engage Rash Guard Long Sleeve Black / Blue
ai???Ai??Bad Boy Engage Rash Guard Long Sleeve Black
ai???Ai??Bad Boy Engage Rash Guard Short Sleeve Black / White
ai???Ai??Bad Boy Engage Rash Guard Short SleeveAi??Black / Blue
ai???Ai??Bad Boy Engage Rash Guard Short SleeveAi??Black
ai???Ai??Bad Boy Thermal Half Zip Top Black
ai???Ai??Bad Boy Thermal Half ZipAi??Top Grey
ai???Ai??Bad Boy Thermal Half Zip TopAi??Blue