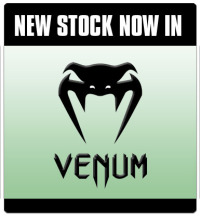 We've just taken stock of a great new range ofAi??Venum Rashguards,Ai??Vale Tudo Shorts,Ai??T-ShirtsAi??and their newAi??Challenger BJJ Gi.
We've also re-stocked on a few of your Venum favourites, including theirAi??All Sports HoodieAi??and theAi??Venum Giant Pants.
Check out theAi??Venum What's NewAi??page on our site to check out the full range of new Venum gear now available.