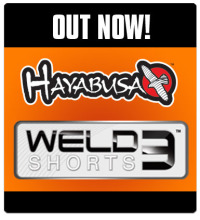 The first everAi??Welded Fight ShortAi??fromAi??HayabusaAi??have now arrived!
TheAi??New Weld3ai??? Fight ShortsAi??are available in three colour variations (listed below) and all featureAi??Hayabusa's Exclusive Ultrasonic Weld3ai??? Technology.
These new durable, light weight fight shorts are at the cutting edge ofAi??MMA Shortsperformance and provide superior comfort and manoeuvrability to any other fight short on the market to date.
Check out theAi??New HayabusaAi?? Weld3ai??? Fight Shorts,Ai??available to buy from our site now.