Everyone loves a good quote, including us! Check out six our favourite combat sport quotes from notable names from MMA, Boxing, Jiu Jitsu and other disciplines.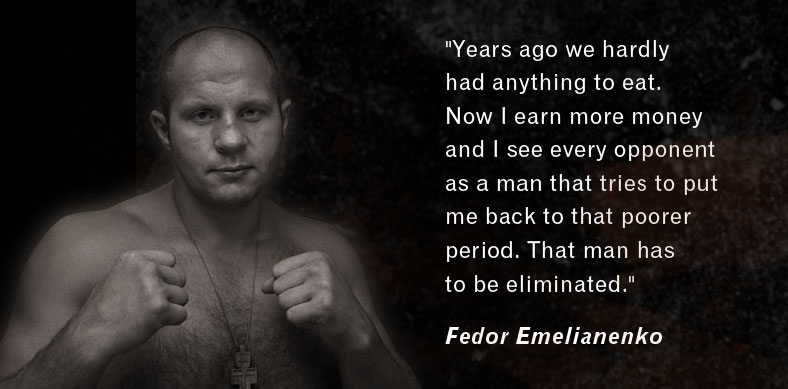 If you've ever seen the "Last Emperor" fight then you'll probably recognise that he was pretty damn good at putting this philosophy in to practice. This quote is straight to the point and reveals something of the motivation behind one of the greatest Mixed Martial Artists of our time.
Mike Tyson
ai???Most fighters are the most humble people in the world because they've gotten their ass kicked before.ai???
In his prime, it's hard to believe that Mike Tyson would have had much experience of getting his "ass kicked", but there's definitely some truth in what he says, taking a beating in the ring by a better opponent certainly keeps you grounded!
Ai??
Carlos Gracie Jr.
"There is no losing in Jiu-Jitsu. You either win or you learn."
Taking the positives even in defeat is something that we can all learn from and apply to any sport, this short quote epitomises this philosophy.
Wladimir Klitschko
"Mental strength is really important because you either win or lose in your mind. And I'm not solely talking about sporting matches, boxing events – anything you do, you do it first with your mental strength. And you can actually train and develop it, and I am responsible for what I'm saying because I have experience with that."
"Dr. Steelhammer" shares his wisdom about the power and importance of mental strength and how this can be improved through training.
Bruce Lee
"I fear not the man who has practiced 10,000 kicks once, but I fear the man who has practiced one kick 10,000 times."
Bruce Lee reveals his fear of those who dedicate their training and specialise in a particular technique. We wonder if he would have felt the same facing the might LHK of Mirko Cro Cop in his prime?!
Lao Tzu
"The best fighter is never angry"
Short and sweet from the ancient Chinese philosopher. As with many of these kinds of quotes they are open to interpretation and require you to look in to them a little deeper to grasp their meaning. We like this one because it sums up the need to contain your aggression, remain focused and keep a cool head during a fight.
We've covered a few different disciplines with our favourite quotes above, but don't forget that we also cover a range of disciplines when it comes to supplying you with top quality apparel and equipment to help you get kitted out and apply some of your new found wisdom that you've acquired from reading this post 😉