Henderson Wins Fight Night 38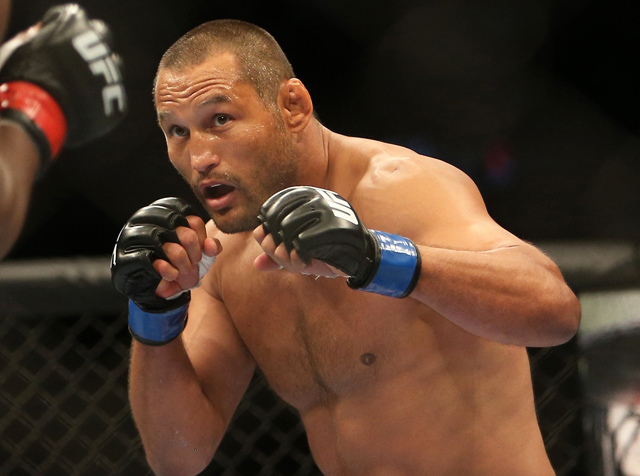 Dan Henderson defeated Shogun Roa at UFC Fight Night 38 in Brazil on Saturday.
Henderson survived being dropped twice in the space of two to still give Rua a taste of his own medicine, as he stopped his opponent in the third round to earn the TKO victory in an eventful bout.
Henderson overcame a slow start against Rua to score a vicious knockout with a blow that left Rua in a confused state with a badly damaged nose.
Rua did the early stalking, pecking away at Henderson early with leg kicks, both inside and out, while managing to block Henderson's early right overhand attempts.
But Rua picked up the intensity right from the opening of the second frame, landing another hard right and forcing Henderson into the clinch. They traded again and this time Shogun drilled Henderson with a blistering uppercut that sent Henderson to the mat again.
Henderson opened the third round with a series of stunning punches, but was unable to land a significant blow. In the clinch, however, Rua's hands were down, and as they separated, Henderson cracked Rua with a crushing right hand that sent Shogun reeling.
Referee Herb Dean stopped the fight after 1 minute 31 seconds of the round and as Shogun stood, he collapsed backward in both agony and in a state of semi-consciousness.
Guillard Released from UFC
Melvin Guillard's UFC run has come to an end after nearly nine years.
The decision comes after the 30-year-old lost a unanimous decision to Michael Johnson at UFC Fight Night 38 in London earlier this month and "The Young Assassin" was released from the UFC on Thursday night, according to his manager Malki Kawa.
Guillard made his debut on the second season of "The Ultimate Fighter" in 2005. Despite losing early in the tournament, Guillard defeated Marcus Davis via second-round TKO in the Finale to secure a spot in the organization.
The lightweight fighter went 12-9 inside the Octagon, with memorable wins against Dennis Siver, Gleison Tibau, Evan Dunham and Mac Danzig.