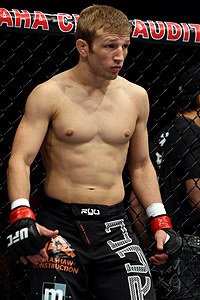 T.J. Dillashaw pulled off one of the greatest upset in the UFC's 20-plus-year history when he stopped Renan Barao in the fifth round of their bantamweight title fight at UFC 173.
Dominating from start to finish Dillashaw inflicted the Brazilianai??i??s first defeat since his pro debut in April 2005, ending Barao's 22-fight winning streak and 34-fight unbeaten record.
Dillashaw, a college wrestler, utilised his hands to defeat Barao, at the MGM Grand event, finishing the bout in the third minute of the fifth round when referee Herb Dean stopped the contest after Barao was sent to the canvas.
"He's the best of the world and that's what brought it out of me," Dillashaw said. "I had to bring my A-game because I was fighting the best in the world."
Despite Dillashaw using a lot of lateral movement and kicks early in the fight, Barao still stalked forward. But Dillashaw began to land his punches midway through the round and it was clear they were taking a toll on the Brazilian.
Barao had been knocked down with a right hand late in the first which nearly finished him, but his sheer resilience kept him in the fight.
But Dillashaw fought with great poise and never got rattled. He didn't take unnecessary chances and stuck to his plan and repeatedly – blasting Barao with a barrage of hard and accurate shots.
The fight finally ended when Dillashaw landed a punch, a kick and another punch that put an exhausted Barao flat on his back.
Dillashaw immediately pounced and landed several hard shots on the ground until Dean stepped in to call an end to proceedings.