With both pairs of MMA Gloves being similar in appearance and boasting an array of technical features, we've reviewed the Hayabusa Tokushu Series 4oz MMA Gloves and the Bad Boy Legacy 4oz MMA Gloves to give you a more in depth look in to both products and to give you our own personal preference.
Please note that this review is a quick initial review and views are based purely on personal preference and opinion. The main purpose of the review is to give you the chance to look at the products in more detail and highlight their stand out features.
Features Overview
Hayabusa Tokushu Series 4oz MMA Gloves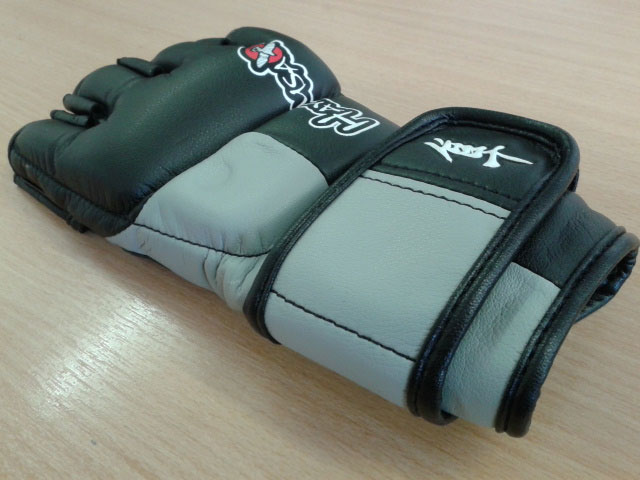 Dual-X Closure Systemai???: This Hayabusa patented glove enclosure system allows you to get a really snug and secure fit and helps to give you more hand and wrist support.
Y-Volarai??? design: As with the Dual-X Closure Systemai???, this feature further aids a secure fit and goes a long way to reducing movement and shift of the glove when worn. You will notice the how the open palm design is split in to two areas by an additional joining section to provide more stability.
Unique Ectaai??? Activated Carbonised Bamboo Lining: The deodorising and temperature regulating qualities of the Ectaai??? Bamboo Lining is something that can only be put to the test after some use to prove its effectiveness. However, there is no doubting the comfort that this soft fabric provides as you put the gloves on for the first time.
Vylarai???: This feature is also something that can only be proved after standing the test of time, but the "performance engineered leather material" called Vylarai???, boasts durable and hard wearing qualities. From first impressions, the Vylarai??? material does have a quality hard wearing feel to it.
Bad Boy Legacy 4oz MMA Gloves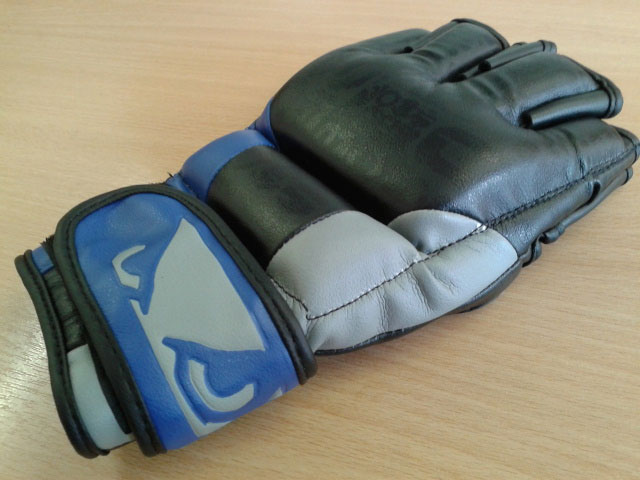 Composite Leather: Bad Boy say that this material is the "softest, most durable composite leather available". As with they Hayabusa Vylarai??? material, only time and many uses will prove this claim, however again the first impressions are good and it does feel soft, comfortable and of a high standard.
5-Layer Multi-Foam: Without actually taking the gloves apart to inspect this feature, the padding certainly feels adequate after an initial inspection. When depressed, you can feel that the padding is soft with a more dense core.
Contoured Breath Wrap with Air-Flow Mesh: The wrist support uses a breathable meshed neoprene material that is designed to give keep your hands cool. It certainly looks up to the job in relation to other products that use this kind of temperature regulating feature.
Ergonomic Shape: These gloves have been constructed in a way to make it as easy and natural as possible to form a closed fist shape, to help enhance your performance and reduce injury. After an initial wear of these gloves, we had no issues with the shape or their flexibility.
Appearance / Design:
In terms of their initial appearance and design, both pairs of MMA Gloves do look relatively comparable and have a similar stitching pattern and placement of foam padding on the back of the hand. Both sets of gloves give a good "out of the bag" first impression too.
Appearance / Design Star Rating:Ai??
Hayabusa: 4 StarsAi??
Bad Boy: 4 Stars
Feel / Finish:
Both gloves are light in weight, with the composite leather used for the Bad Boy gloves feeling slightly softer to the touch.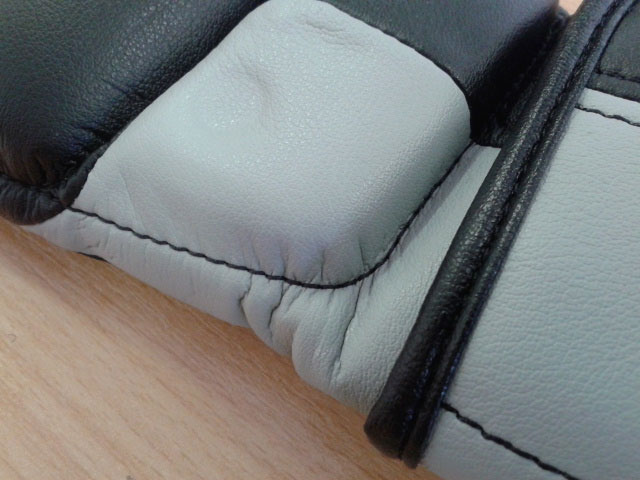 Ai??
Upon closer inspection of the stitching and finishing, the quality of the Hayabusa gloves (pictured above) does appear to be of a higher standard to that of the Bad Boy gloves (pictured below). The actual stitching thread is thicker, finished neater and gives the feeling of a more solidly constructed product.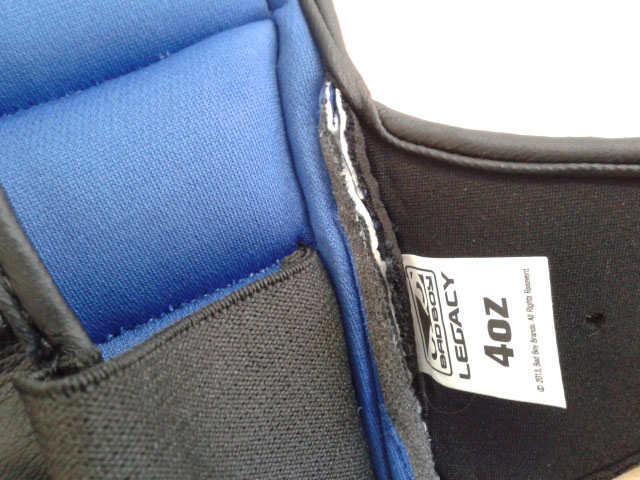 Ai??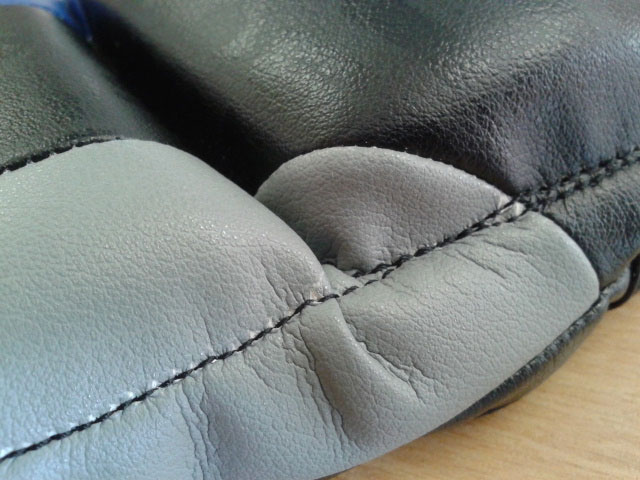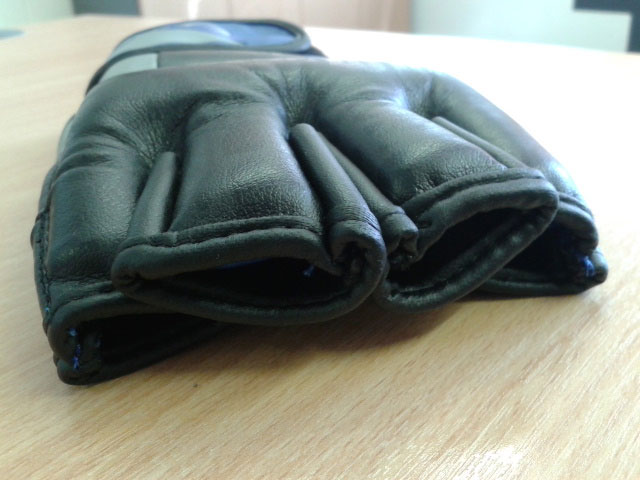 Not taking anything away from the Legacy MMA Gloves, it's clear to see that they are a well made glove and we were impressed with the durable looking reinforced finger loops, but the Tokushu Series MMA Gloves have the edge in terms of the attention to detail of the finishing.
Feel / Finish Star Rating:
Hayabusa: 5 Stars
Bad Boy: 3 1/2 Stars
Protection: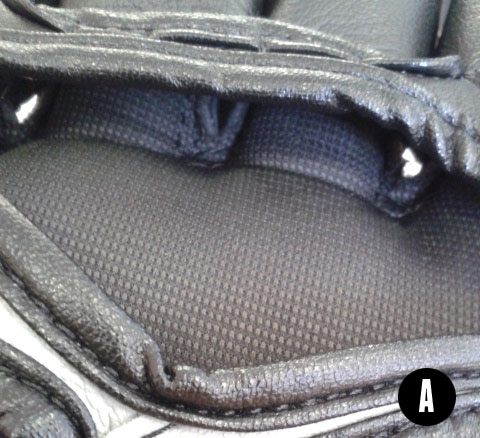 With regards to the similarities in padding placement and thickness, the Hayabusa Glove (A) padding does feel a little more dense than that of the Bad Boy Gloves (D) and there is more padding around the knuckle area on the inside of the glove too.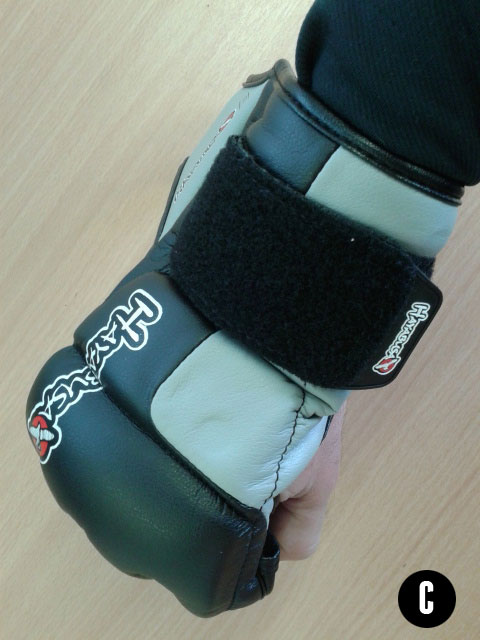 Ai??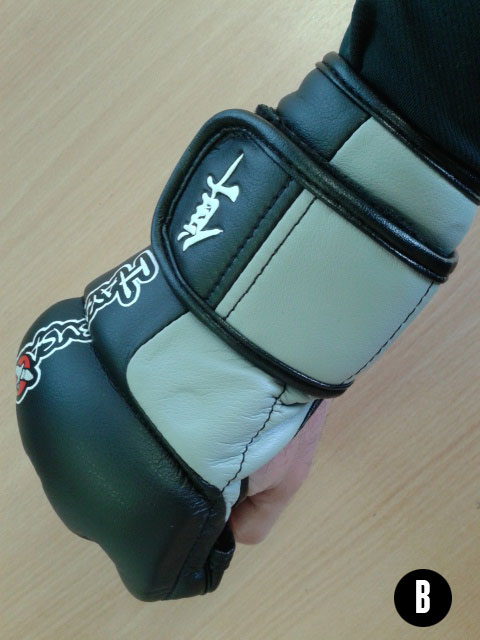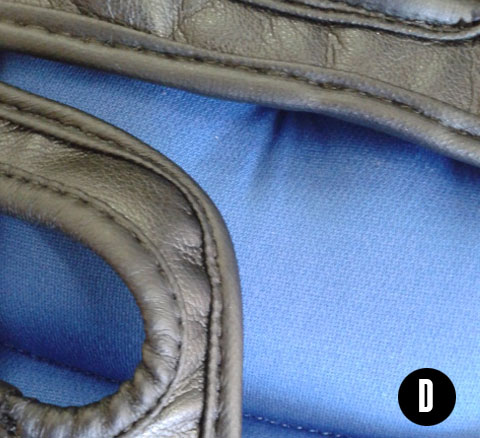 Ai??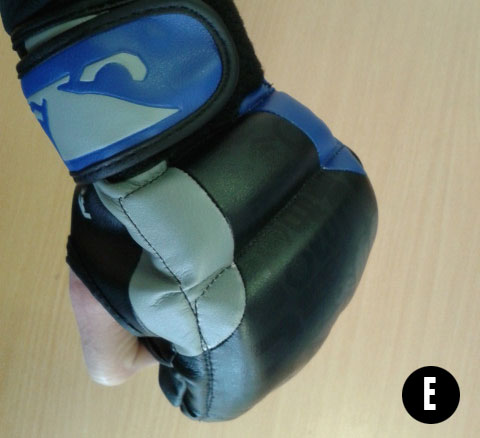 One of the stand out features of the Hayabusa Tokushu Series 4oz MMA Gloves is the Dual X Enclosure Systemai???(B & C). This system does give it the edge in terms of offering a superior feeling of wrist support over their Bad Boy (E) counterparts.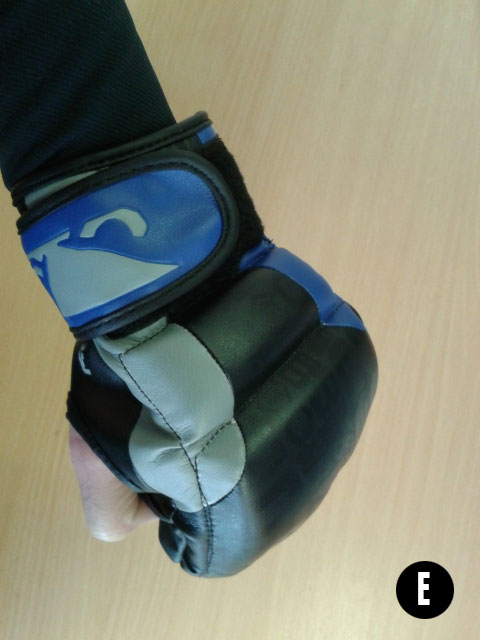 As well as there being physically more padding for your wrist due to the larger enclosure area, the secure fit that you get from the system gives that extra feeling of support and stability when you put the glove on.
Protection Star Rating:Ai??
Hayabusa: 4 1/2 StarsAi??
Bad Boy: 3 1/2 Stars
Fit / Comfort:
It is important to note that the sizing for both brands is slightly different for these particular products.
Bad Boy have opted for S/M and L/X sizing options, were as Hayabusa have decided to produce for different sizes to give more variety. The Tokushu 4oz MMA Gloves are available in S, M, L and XL sizes.
For this review, we have compared the L/XL size and L size from the respected brands, the hand and wrist measurements of our reviewer are; 4″ from knuckle to knuckle with a 7″ wrist circumference.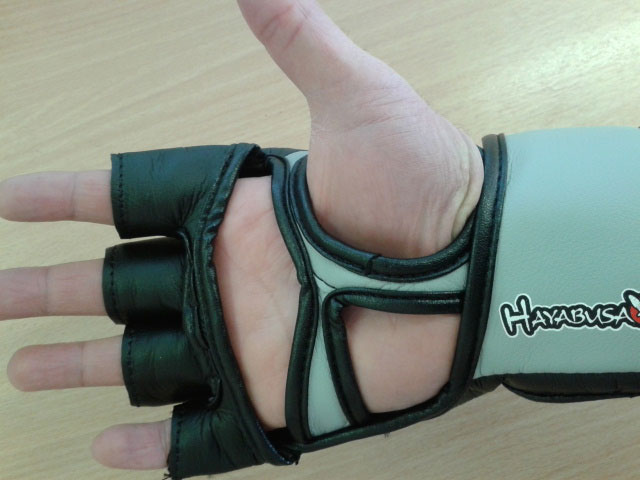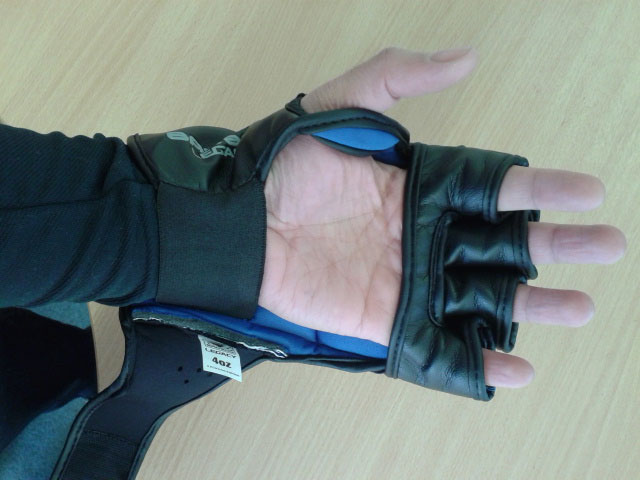 Once you've strapped yourself in to the Hayabusa gloves using the Dual X Enclosure System, straight away you can feel how secure and snug the fit is. Your hands instantly feel protected and with the Y-Volar, you get the impression that these gloves are not going to move around and rub against your hands too much. Forming a fist is easy and comfortable, with the right amount of flexibility and give allowed due to their construction.
The level padding also leaves you feeling like their is ample protection where it's need, not to mention the gloves being very comfortable to wear. Overall, the gloves feel like a solid pair of well made gloves, where there has been obvious attention to detail.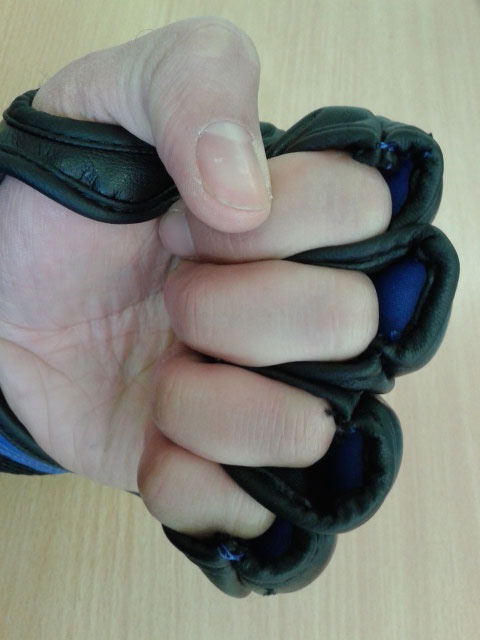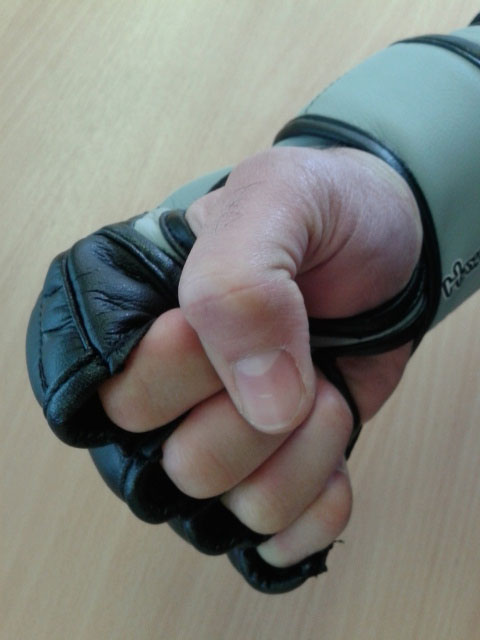 The Bad Boy Gloves are soft inside and have a noticeable comfortable feel to them. Without the Dual X Enclosure System, they are also easier to get on and off. This may be due to their L/XL size (therefore accommodating for larger hands than the Hayabusa Gloves) but they do feel slightly more roomy and seem as though they may be more prone to shift when in use. In addition to this, again possibly due to the sizing, the finger loops are slightly larger and do not feel as snug to your hands. Despite the extra room, it was a slightly more difficult to form a fist in these gloves, but this could be something that would become easier over time.
Without the Y-Volar system and with their softer material, the Bad Boy Gloves appear to lose their shape more when you put them on and do not feel as solidly constructed as the Hayabusa Gloves.
The velcro strap on the Bad Boy gloves also leaves a relatively large area of the Velcro fastening material exposed when closed over and the tightness and secureness of the fit is less in comparison to the Hayabusa gloves.
One particular feature of the Bad Boy Gloves that differentiates them from the Hayabusa MMA Gloves, is the use of the neoprene, light weight, Air-Flow Mesh material. As well looking the part, this certainly helps to keep the gloves nice and light and comfortable to wear.
Fit/Comfort Star Rating:
Hayabusa: 5 StarsAi??
Bad Boy: 3 1/2 Stars
Overall:
If we were in the position of choosing between the two gloves, based on our initial review, we would have to say that the Hayabusa Tokushu Series 4oz MMA Gloves would be our personal preference.
As you would expect, when comparing any two products with a price difference, you would expect to get more for your money with regards to the more expensive of the two.
This is certainly the case here, as the attention to detail and quality of finishing of the Hayabusa Gloves is of a higher standard when compared to the Legacy MMA Gloves.
This certainly doesn't take away the quality of finishing and stitching of the Bad Boy Gloves as they have also been constructed to a high standard, but when compared next to the Tokushu MMA Gloves, Hayabusa do have the edge.
However, it isn't the overall construction that influenced our decision to prefer the Tokushu Gloves over the Bad Boy Legacy Gloves. The standout Dual X Enclosure, Y-Volar, additional wrist support and dense padding features from Hayabusa, really do give these gloves the edge in terms of their fit, comfort and protection.
Overall Star Rating:Ai??
Hayabusa: 4 1/2 StarsAi??
Bad Boy: 3 1/2 Stars