We take a look at the Hayabusa Sport 16oz Gloves in more detail to give you a better idea of this new range.
Before we look at this new range of gloves, the first thing that appeals about them is the combination of the relatively low price tag and the fact that they are made by Hayabusa, a company renowned for their quality.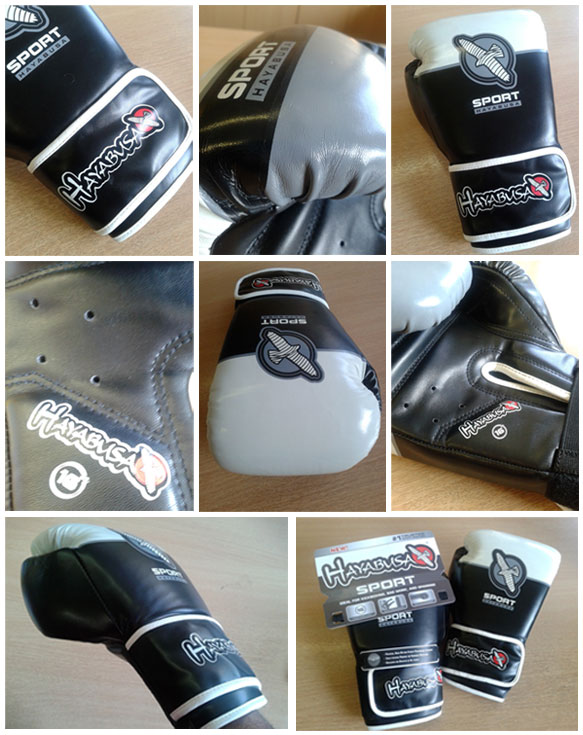 With this new Sport range, Hayabusa are pitching to those who mainly engage in boxing, kick boxing and other relevant combat sports as a form of exercise rather than competing.
With this in mind, they have decided to reduce the price in comparison to their other more technical lines of boxing gloves, such as the Ikusa and Tokushu.
From the labelling and marketing material we know that these gloves have been designed to be versatile and can be used for both bag work and sparring too.
Out of the bag, when you compare them with the higher priced offerings from Hayabusa, their shiny, glossy look gives them a less expensive feel when you compare them to the grainy, matted finish found on the material used for the Ikusa and Tokushu Gloves.
Having said that, they feel correctly weighted for a 16oz glove and also feel sturdy and well constructed, with no loose threads or stitches.
When worn, you will also notice that the Sport range do not use the Dual-Xai??? patented wrist closure system as used on the more expensive lines, but use a more standard Velcro wrist enclosure. While the Sport range may not offer the same high level of wrist support as a pair of Tokushu Gloves, the actual size of the wrist enclosure strap is nice and big and feels very supportive once the strap is in place.
The gloves are well padded too and comfortable to wear, they also feature some padding at the top of the strap enclosure at the base of the palm for added protection.
All in all, when you consider their price and the reputation that Hayabusa have for producing quality products, we think that these gloves would make an ideal choice for the combat sport fitness enthusiast. If you donai??i??t feel like shelling out in excess of A?70.00 for a more advanced and technical pair of gloves, but still want something of lasting quality then the Hayabusa Sport Range could well be the answer.