By combining some of the essential attributes needed to perform at the highest level as an MMA Fighter, we've put together the skills and know how of some of the best in the world to create our own 'Perfect MMA Fighter'!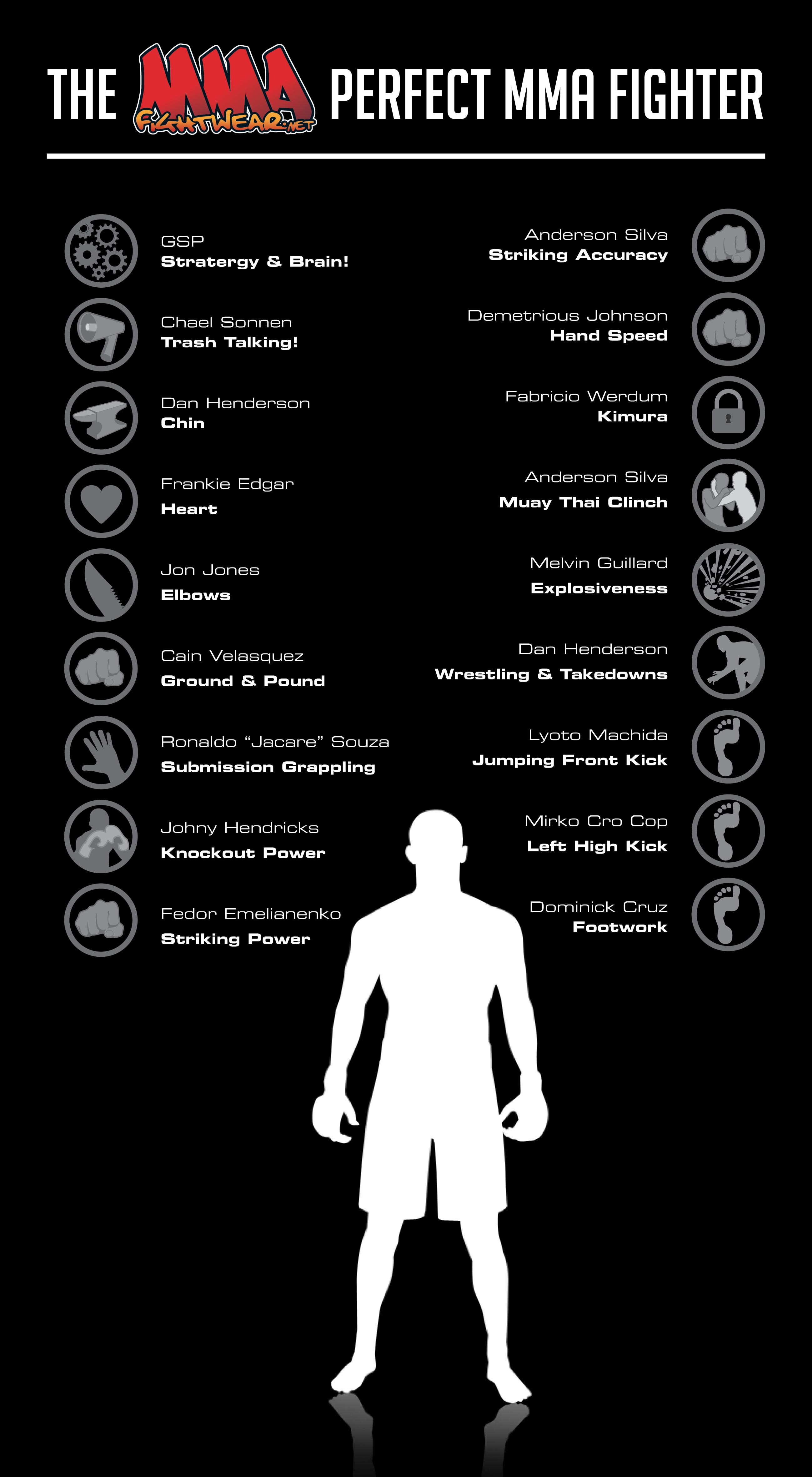 Not only is our fighter a Mixed Martial Arts specialist, he's also made up of a fair few nationalities. Taking in to account the nationalities of the fighters we're drawing his skills from, he is 56.25% American, 25% Brazilian and 6.25% Russian, Croatian and Canadian to boot!
Strategy and Brain – Georges St. Pierre
Starting off, we've blessed our guy with the Strategy and Brain of Georges St. Pierre due to his flawless ability to calmly adapt and change his game mid fight, not to mention is unrivalled desire to win mentality. 

Trash Talking – Chael Sonnen
There's nothing like a bit of Trash Talking to build up a fight and get beneath your opponents skin before you've even gone toe to toe. There were a few candidates for this, but there are few others who like the sound of their own voice than the opinion dividing Chael Sonnen.
Chin – Dan Henderson
The best form of defence in any combat sport is to avoid being hit, but in the unlikely event that our superhuman will take a few hits, then a cast iron Chin will also come in pretty handy. Dan Henderson boasts never being knocked to date after sixteen years, need we say more?
Heart – Frankie Edgar
When the heat of the battle rises and things get tough, the desire to keep on going and fight until you're running on empty requires courage and a big Heart, something that Frankie "The Answer" Edgar is famous for.
Elbows – Jon Jones
There are so many attributes that we could have taken from Jon Jones, but if you ask Stephan Bonnar, he's likely to mention that devastatingly fast spinning Elbow he ate during Jone's 2nd fight in the UFC. It's not only the speed you have to look out for, Jones's elbows are like blades and seem to open up cuts like a machete!
Ground and Pound – Cain Velasquez
Cain Velasquez's domination of Antonio "Big Foot" Silva back at UFC 160 was a prime example of Velasquez's brutally effective Ground and Pound game. When used effectively, raining down a flurry of blows using this technique can often be a fight finisher.
Submission Grappling – Ronaldo Souza
For overall Submission Grappling prowess, there are few MMA fighters more highly thought of than the Ronaldo "Jacare" Souza. Jacare is one of the most feared fighters in MMA when the fight goes to the ground and often tops the list of the best BJJ practitioners within the sport too.
Knockout Power – Johny Hendricks
As with all of the different traits and attributes we've listed, there are going to be many choices for each, but our decision to include Johny Hendricks for Knockout Power is based on this guy's ridiculous striking power and the fact the he seems to get more powerful with each fight.
Striking Power – Fedor Emelianenko
As well as knockout merchant credentials, we though that we would give our fighter some additional Striking Power from Fedor Emelianenko. Renowned as one of the all time greats, "The Last Emperor" possessed bear like strength with unmatched power behind his heavy hands. It has been said that Fedor actually punched too hard, and posed a risk to the health of his own hand bones and joints!
Striking Accuracy – Anderson Silva
UFC stat boffins will know of the incredible Striking Accuracy possessed by one of, if the not, the greatest fighter in MMA history. There's so much that we could take from Anderson Silva when creating our Perfect MMA Fighter, but his striking accuracy keeps him firmly at the top of the FightMetric 'Significant Strike Accuracy' stats list with an impressive 62.7% record.
Hand Speed – Demetrious Johnson 
Few can match the Hand Speed of Demetrious Johnson, one of those who was recently frustrated and outfoxed by "Mighty Mouse" was Ali Bagautinov at UFC 174. In this fight it was Johnson's overall speed and manoeuvrability that helped him to overwhelm Bagautinov secure the victory.
Kimura – Fabricio Werdum
We might be being a bit excessive here as we've already got the submission grappling skills of Jacare in the bag. But, as one of our favourite BJJ maestro's, we thought we'd throw in a dose of Kimura specialist, Fabricio Werdum for good measure too.
Muay Thai Clinch – Anderson Silva
If there's one place that you do not want to find yourself in the midst of a fight, it's being held in the Clinch of Anderson Silva. It's no secret that Silva can come at you and do you damage in many ways, but feeling the full force of repetitive knee and elbow strikes from this position is certainly one of the most devastating.
Explosiveness – Melvin Guillard
Melvin Guillard is a genuine athlete that possess Explosiveness of movement as well as punching power. Guillard's aggressive, dynamic style made him exciting to watch, despite being released earlier this year by the UFC after nine years with the organisation. 
Wrestling & Takedown – Dan Henderson
Not only renowned for his Iron Chin, Dan Henderson is also highly regarded for his Wrestling & Takedown skills. These attributes are sure to give our fighter another option to effortlessly control the fight if it goes to the ground, or purposefully take the fight to the ground to show off his skills!
Front Leg Kick – Lyoto Machida
Not only do we have a well rounded, probably unbeatable fighter in the making, we also want him to be a crowd pleaser. Lyoto Machida's Front Leg Kick that he originally used to flaw Randy Couture back in 2013 certainly got people on their feet and is still talked about today as one of the most famous knockouts in the UFC.
Left High Kick – Mirko Cro Cop
Blink or take your eye off the ball and our fighter will hit you for six with Left High Kick that will take your head off your shoulders. Widely feared as being a generally scary individual not mention one of the greatest MMA heavyweights in MMA history, Mirko Cro Cop's LHK was lightning quick equally as powerful.
Footwork – Dominick Cruz
It's highly likely that you are going to be hit by our fighter, given the lethal cocktail of skills we've plied him with. It's also very possible that you are unlikely to get near him as well, as we finish him off with the unique and incredibly quick Footwork of Dominick Cruz.